Wednesday, October 01, 2003

Cape Clear has a nice WSDL editor... So I needed to hack up a quick wsdl - so I sucked down the free one from Cape Clear.
It rocks. However, I didn't fully understand this:




posted by jeff | 8:36 PM
---


Tuesday, September 30, 2003

Web Services Enterprise Edition What is the standard .wsdl for a workflow engine to expose its state?

What is the standard .wsdl to expose a message queue? What about a pub/sub topic?

What is the standard .wsdl to expose LDAP?

What is the standard .wsdl to expose POP? SMTP? FTP?

You know, it's great to have one-off wsdl's over at xMethods. But at some point we are going to have to pull together a 'library' (or profile) of wsdl's to expose the technology architecture. The library should be consistent in style. After we finish it we should throw it away - because it will be wrong. Then we should start over. posted by jeff | 8:15 PM
---


The end of BPM-1, the beginning of BPM-2 I dropped a few comments on BPM-2 at 'Loosely Coupled'. I'll try to elaborate on this article in the coming days.

Also, I seem to be losing the battle to change the name of an ESB to something that makes sense. So, if you can't beat'em join'em. Message oriented services with durable load tempering devices is a solid concept. It's still a stupid name - but I'll get over it.
posted by jeff | 7:19 PM
---


EAI vendor revenues continue to topple Wow... if this is our bull, I'd hate to see the bear!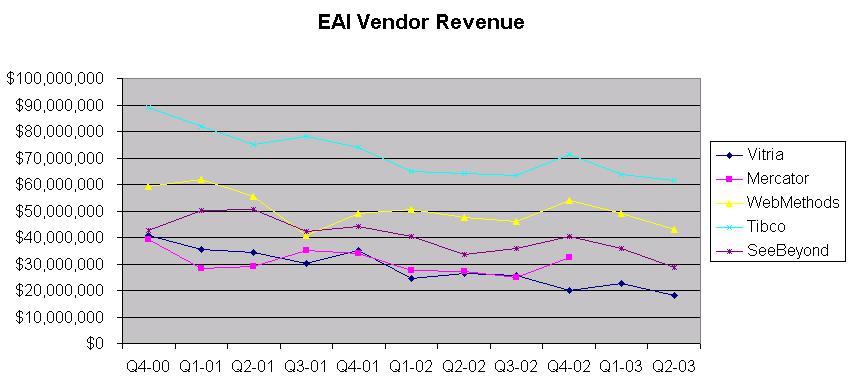 posted by jeff | 6:13 AM
---